Dr. Kian Karimi and our Rejuva Medical Aesthetics practitioners are highly sought after internationally for their expertise and portfolio of results. We offer virtual consultations and care options to accommodate our out of town patients. 
For your convenience, we offer virtual consultations to connect with Dr. Kian by Zoom, Skype or FaceTime from the comfort and safety of your home. During the consultation, we will discuss your aesthetic goals and Dr. Kian will provide his recommended plan for your surgery. Pricing and financing options may be discussed at this time as well.
Planning for your surgery
If you decide to move forward with the procedure, our Patient Care Team will work with you to schedule your surgery date and post-operative appointment(s). Once your surgery is scheduled, our Medical Assistants will provide you with any pre-operative instructions to prepare you for your  procedure as well as information regarding post-operative care for optimal recovery.
We generally suggest out of town patients plan to arrive between 24-48 hours prior to their surgery date. Our Patient Care Team may also provide recommendations for air travel, conveniently located accommodations for overnight stay, and options for trusted After Care resources. It is advised that patients stay in the Los Angeles area until their first post-operative appointment.
Following your surgical procedure, a series of follow up appointments will be necessary to assure your proper healing to achieve optimal results. For our out-of-town patients, a majority of these care appointments may be held virtually, however, the first follow up is required to be held in-office for a more in-depth evaluation. The time frame between surgery and follow-up appointments will vary based on the surgical procedure and will be discussed during your consultation.
During recovery, it is imperative to have someone with you to monitor and assist with your post-operative care. If you do not have someone who is able to travel with you, we are able to provide recommended After Care and nursing options.
Out of Town Patient Resources
Rejuva Medical Aesthetics is located 10 miles from Los Angeles International Airport (LAX) and 19 miles from Bob Hope Airport (BUR).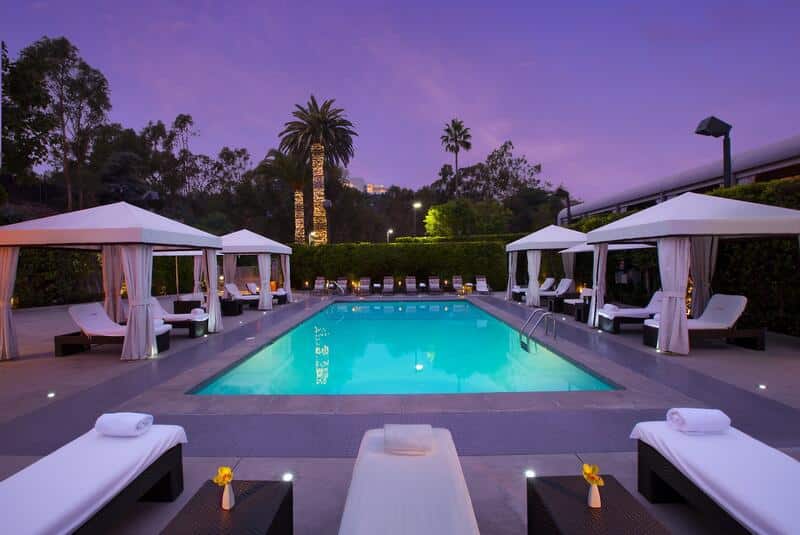 2 miles from Rejuva Medical Aesthetics
11461 Sunset Blvd. Los Angeles, CA 90049
Tel: +1 310 476 6571
The Luxe Sunset Boulevard Hotel is a lush, private and spacious urban oasis at the crossroads of Beverly Hills, Brentwood and Bel-Air. Hidden in plain sight, our property sits on just over seven secluded acres overlooking an iconic Los Angeles landscape. As one of the few landscaped hotels in LA we blend the exclusivity and bespoke service of a luxury boutique hotel with the leisure amenities of a world-class wellness resort.
The hotel is nestled into a hillside among beautifully landscaped gardens and grounds, offering a sense of peace and serenity amidst the Los Angeles bustle. You would never know that we're just minutes away from everything – the closest hotel to the Getty Museum & UCLA and a short drive from Beverly Hills, Malibu and Santa Monica beach. Let the world disappear behind you as you enter into our secluded yet central property.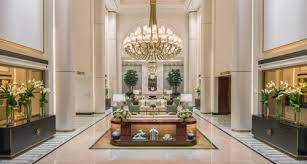 3 miles from Rejuva Medical Aesthetics
9850 Wilshire Blvd, Beverly Hills, CA  90210
Tel: +1-310-8606666
Perfectly set where Wilshire and Santa Monica Boulevards meet, this elegant hotel represents the best in California lifestyle and luxury. Designed by the legendary Pierre-Yves Rochon, you'll find world-class service, lavish accommodations, and excellence in every detail. Waldorf Astoria Beverly Hills recently won the Forbes Five-Star Award and ranked No. 1 in the Conde Nast Traveler 2017 and 2018 Readers Choice Awards as Best Hotel in Los Angeles.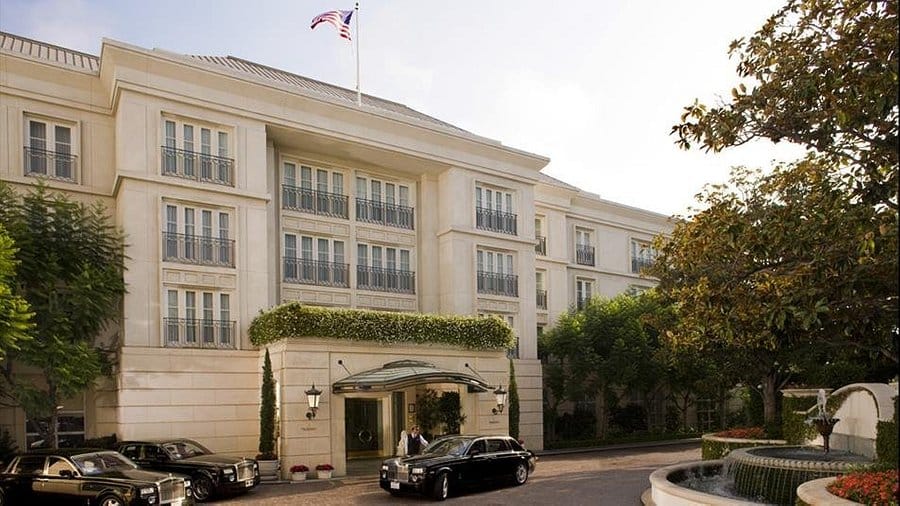 4 miles from Rejuva Medical Aesthetics
9882 South Santa Monica Boulevard, Beverly Hills, CA 90212
Tel: +1 310 551 2888
The Peninsula Beverly Hills offers 195 guest rooms, including 38 suites and 17 private villas, nestled among lush tropical gardens in the heart of Beverly Hills. Voted as the #1 City Hotel in Los Angeles for 2019 by the readers of Travel + Leisure, The Peninsula Beverly Hills is located at the intersection of Wilshire and South Santa Monica Boulevards, within easy walking distance of Century City and Beverly Hills' legendary Rodeo Drive. The Peninsula Hotels is also thrilled to be the only hotel brand to achieve the highest possible Five-Star status across all ten of its hotels, an honor first announced by Forbes Travel Guide in 2019 and continued for 2020.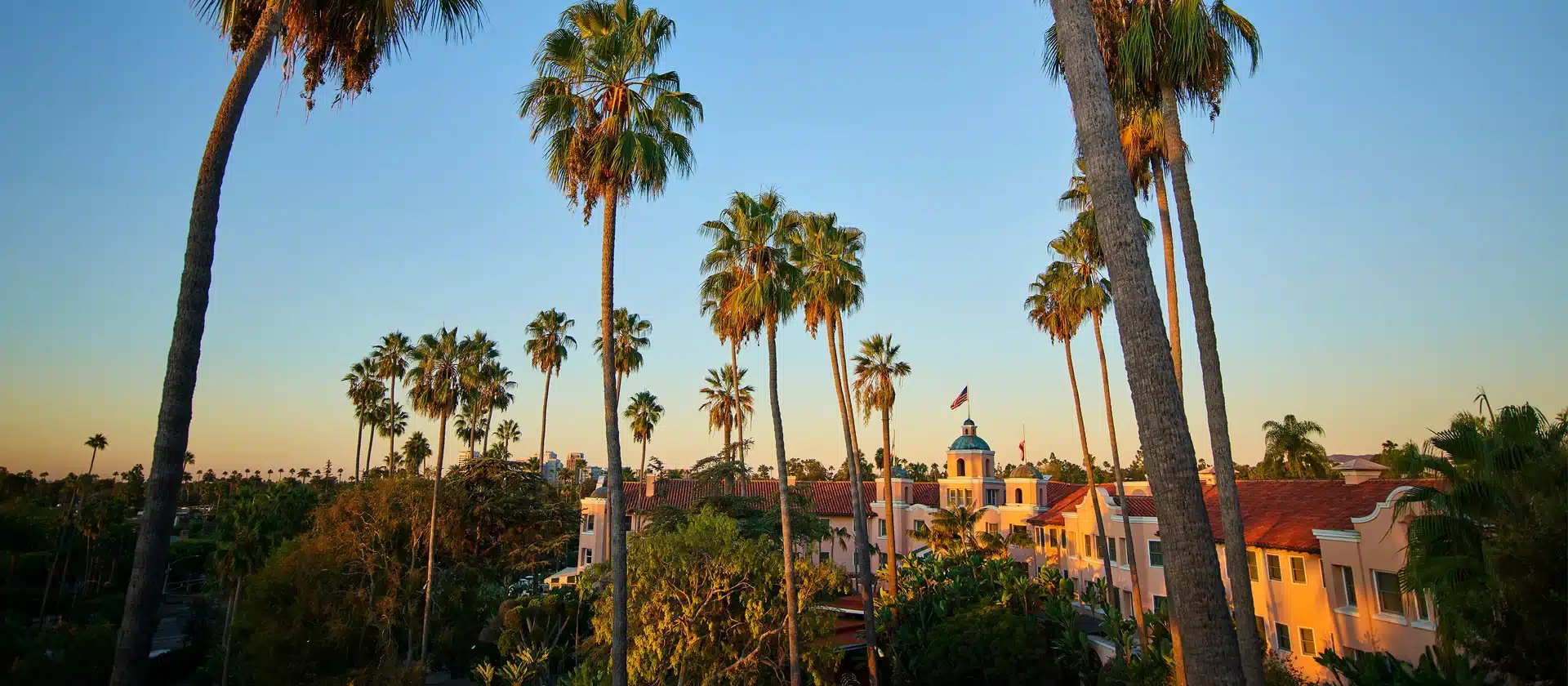 5 miles from Rejuva Medical Aesthetics
9641 Sunset Boulevard, Beverly Hills, CA 90210
Tel: +1 310 276 2251
For over a century, The Beverly Hills Hotel has been the spot for Hollywood's brightest lights, the ultimate beacon of glamour. She greets you like a movie star from the moment you pass the iconic signage, step onto the signature red carpet and enter the grand lobby. Welcome to the legacy.
You're surrounded by 12 acres of tropical gardens and exotic flowers. Beyond this, the iconic LA palm trees stand tall against the brilliant blue sky. You're in the centre of this famous city, but the view is fresh and green and the air crackles with possibility.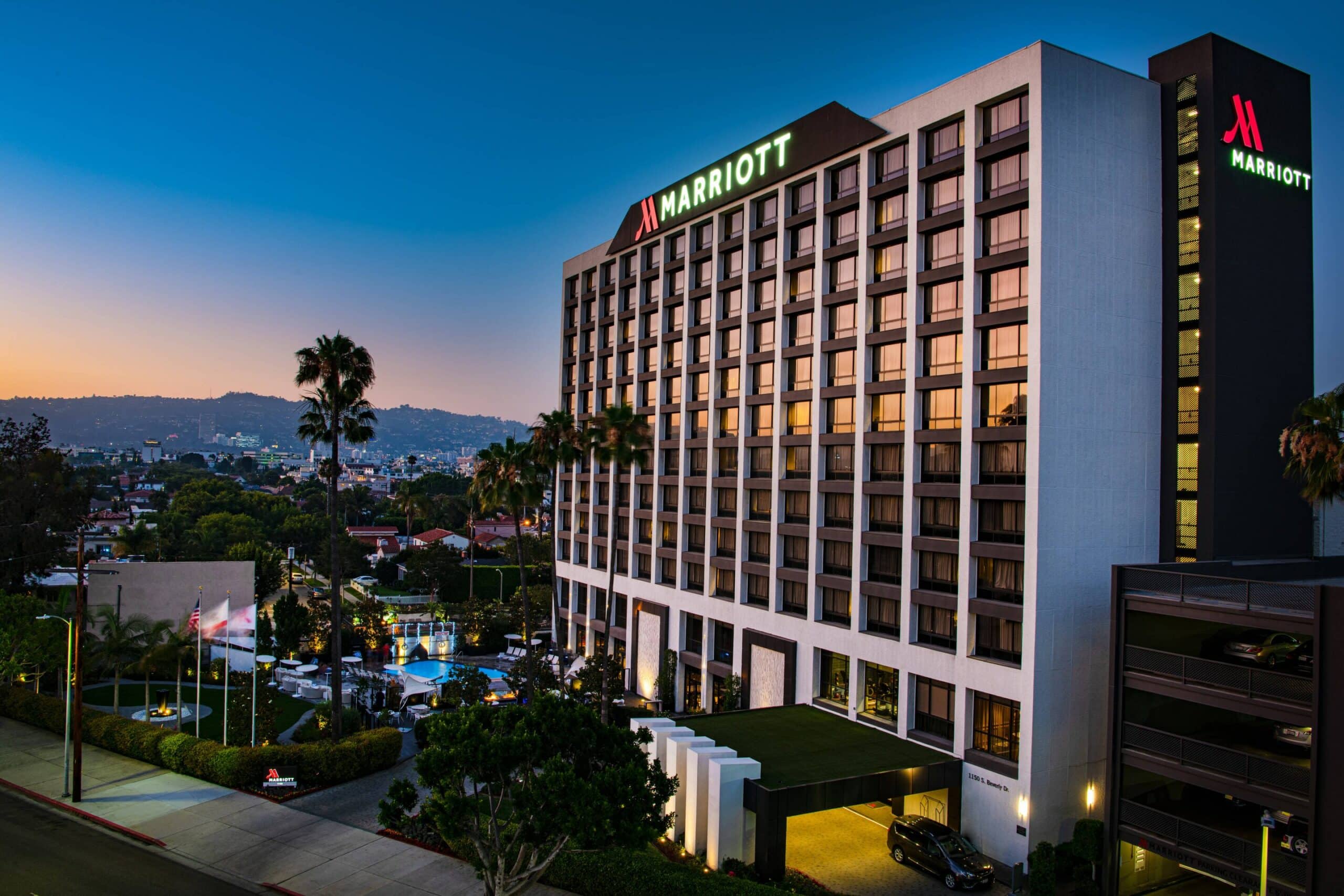 5 miles from Rejuva Medical Aesthetics
1150 South Beverly Drive, Los Angeles, CA 90035
Tel: +1 310 553 6561
The Beverly Hills Marriott is ready for its Hollywood closeup. In the Great Room, lighting creates inviting space to connect with free Wi-Fi and handcrafted cocktails. For a more exclusive experience, the Executive Lounge offers select guests a space to dine, work and recharge. At our restaurant, with bold art and playful patterns, classic American fare gets a California touch. A heated outdoor pool and chic lounge with fireplace take advantage of the city's enviable weather, and a state-of-the-art fitness center caters to fitness trends with an array of equipment. Stylish guest rooms in our Beverly Hills hotel feature locally inspired art, platform bed, expandable closet, multi-use surfaces and a spa-like bathroom with a granite countertop and walk-in waterfall shower.
AfterCare assistance is recommended if you do not have someone to assist you during your post-operative recovery. Prior to your surgery, our patient care team will assist you in finding the optimal nurse for your needs.
Email: info@sanctuaryaftercare.com
Tel: (310) 990-8632
Email: kellygreytokrn@gmail.com
Tel: Phone (843) 298-3834