Los Angeles, CA – March 30, 2017 – We are pleased to share that Rejuva Medical Director, Dr. Kian Karimi is one of 100 doctors worldwide to receive the RealSelf 100 Award, a prestigious award honoring the top influencers on RealSelf—the most trusted online destination for information about elective cosmetic procedures and to find doctors and clinics.
In 2016, more than 82 million people visited RealSelf to research cosmetic treatments and connect with local medical professionals. The RealSelf 100 Award, now in its seventh year, honors the top rated and most engaged board-certified aesthetic doctors who consistently demonstrated a commitment to patient education and positive patient outcomes throughout 2016. This elite group of 100 doctors have excelled at sharing their expertise, free of charge, with tens of millions of RealSelf community members actively searching for information and the right provider, and together contributed 25 percent of the half a million total answers posted on RealSelf in 2016.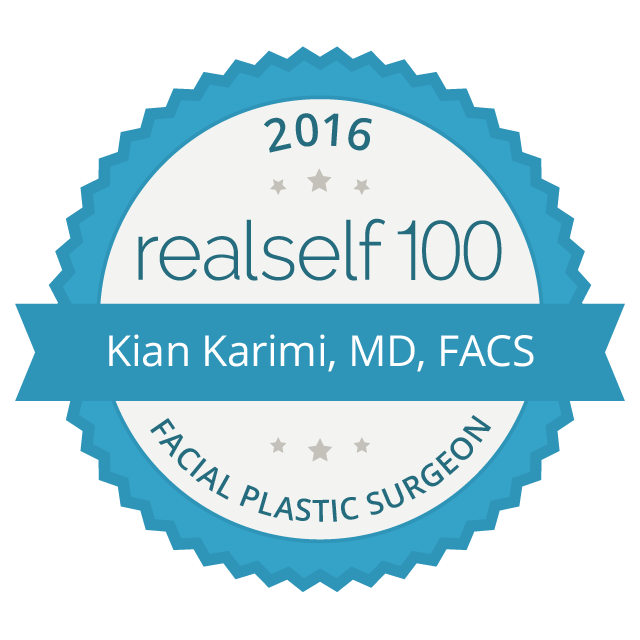 "The RealSelf 100 represents an exclusive group of doctors who embody both excellent patient service and an ongoing commitment to educating consumers shopping in the aesthetics market," said Tom Seery, Founder and CEO of RealSelf. "Our research shows that more than 95 percent of patients expect a practice to engage with them online. These doctors are leading the way in terms of their online engagement and focus on empowering patients with good information."
Dr. Karimi is an expert contributor to RealSelf, and to date has posted 421 answers to questions on RealSelf. Dr. Karimi also maintains a perfect five star rating in 65 RealSelf reviews. For more information on Dr. Karimi or if you have a question or would like to book an appointment, please call (424) 644-2400 or send an email to info@rejuvamedical.org.