Rejuva is excited to offer our diverse patient base the innovative Facetite / Fractora combo, a procedure we call "EmbraceRF".
This procedure is a great way to get not 1, but 2 minimally-invasive non-surgical aesthetic enhancement procedures done in one sitting. Today's blog discusses the process and benefits of the EmbraceRF procedure now offered at our facility and what patients stand to gain from treatment.
Facetite and Fractora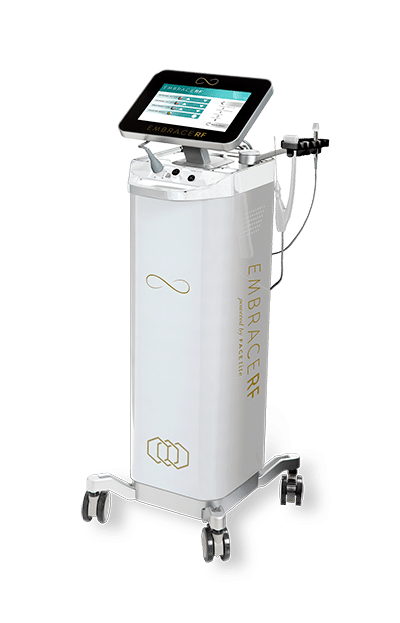 FaceTite is itself a minimally-invasive contouring solution that utilizes RFAL (Radio-Frequency Assisted Lipolysis) technology, providing 3D remodeling of the fibrous septa. When we hear "contouring" we might automatically think that it's for the body, but this particular solution is for the face (and it can also be used on the body's smaller areas). Facetite gives us the unique ability to achieve results similar to a facelift procedure without resorting to excisional surgery. It has built-in safeguards which provide real-time skin temp measurements, power cut-off, and audio feedback for patient safety.
Fractora bridges the gap between surgical procedures and fractional lasers. It's a skin resurfacing and subdermal tissue coagulation device that helps improve overall complexion, reducing skin irregularities. In short, Fractora restores skin to a previous, more youthful-looking condition — all in just one appointment!
More on EmbraceRF
EmbraceRF combines both of these exciting treatments mentioned above into one comprehensive procedure. It's the perfect one-two punch for our patients who would like to get significant aesthetic enhancement results without resorting to surgical procedures. Patients with skin laxity issues respond well to this treatment. EmbraceRF generates heat that ends up re-molding existing fat from the face, rerouting it to new strategic positions that augment the jaw line and rejuvenate the neck.
[bagallery id="2650″]
EmbraceRF Benefits Include:
Performed Under Local Anesthesia
Low Downtime (a Weekend Tops!)
Superior Facial Contouring
Uniform Treatment
Proven, FDA-Cleared Technology
Treats Entire Dermis (Both Superficial and Deep)
Unmatched Safety Specifications / Built-in Safeguards
Contact Rejuva Medical Aesthetics today to learn more about our innovative, convenient EmbraceRF procedure. We remain a premier cosmetic surgical and aesthetic center providing cutting edge procedures and treatments that correct, enhance, and revitalize our patients living in Los Angeles, Beverly Hills, Brentwood, and surrounding areas.