The Sciton® Halo is the world's first hybrid fractional laser to improve skin appearance. It treats fine lines and wrinkles and improves the skin's texture and tone. This treatment can rejuvenate the skin, revealing a healthy, bright complexion.
The Halo laser is the premiere laser treatment in the medspa industry. It works by using two lasers–a non-ablative laser that coagulates affected tissue and an ablative laser–to vaporize the affected tissue to leave the complexion smooth with an even skin tone.
The Halo laser smooths and softens the skin as well as evens out skin tone. It also offers the following benefits:
Addresses many skin issues and imperfections
Less downtime or recovery than other laser treatments
Fewer number of treatments needed to achieve the desired look
Some immediate results with dramatic improvement over time
Natural-looking results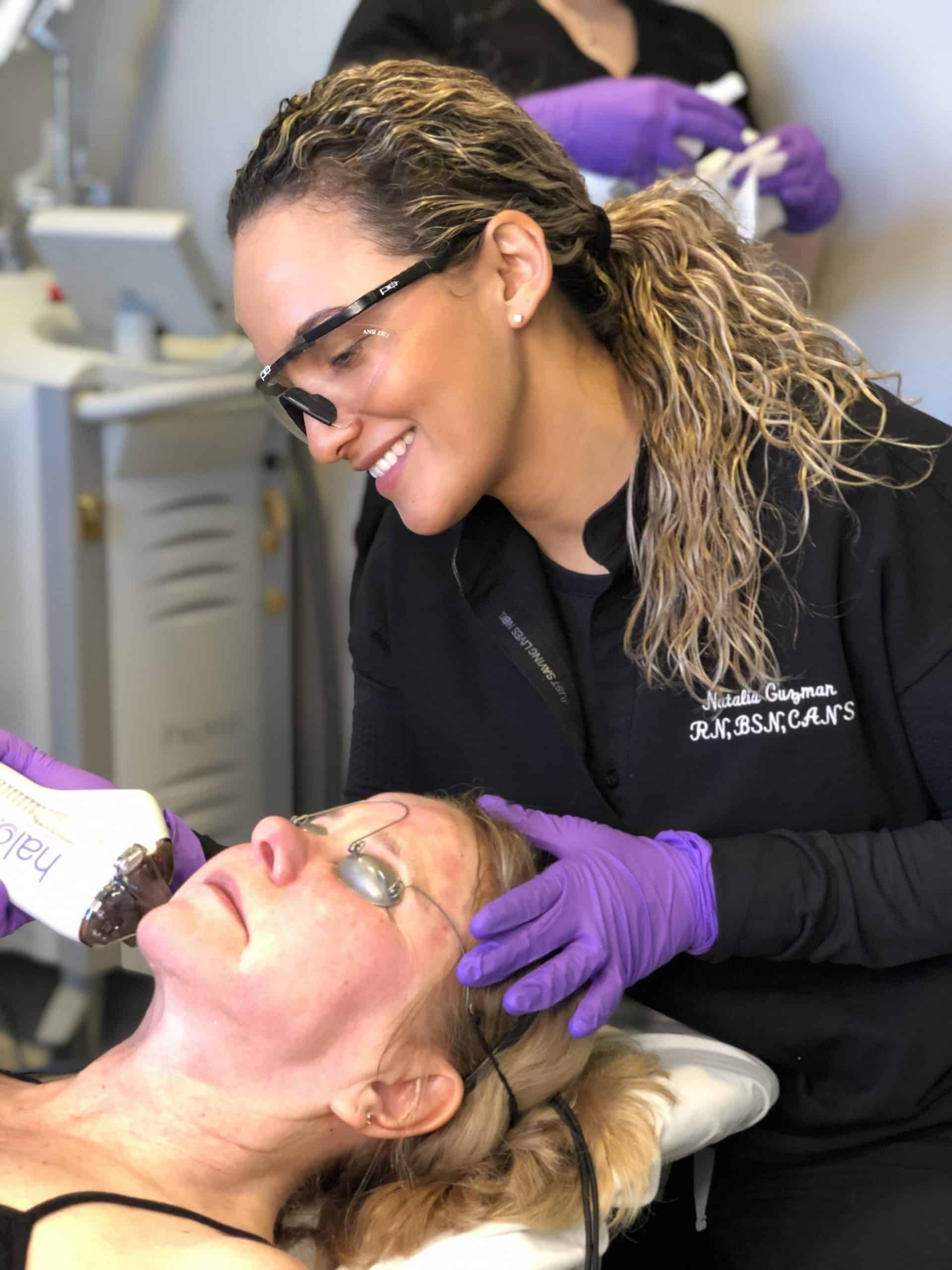 The Halo laser treatment involves signaling the body to send healing properties to the treated area. As this happens, damaged and dead tissue flakes away to reveal new, fresh tissue that is smooth and rejuvenated. A boost in collagen also adds volume to the area furthering the glowing appearance over the next few weeks. Immediately following the treatment, your skin looks mildly sunburned, which diminishes within a few days. If necessary, we provide Oxygenetix® makeup to easily camouflage any redness.
Frequently Asked Questions
Q: WHO IS AN IDEAL CANDIDATE FOR the Halo Laser?
A: The Halo laser is safe for all skin types and is especially ideal for those with hyperpigmentation, uneven skin tone, enlarged pores, shallow scarring such as those from chickenpox or acne, fine lines, and wrinkles.
Q: HOW LONG DOES A Halo laser PROCEDURE TAKE?
A: Halo hybrid fractional laser treatment takes less than one hour to perform; however, preparation and recovery take another hour to complete.
Q: WHEN WILL I SEE THE RESULTS?
A: Some results from the Halo laser treatment become visible within a few days as the redness and swelling subside. These results continue to get better over time as new collagen is produced under the skin. As long as you take care of your skin, you can enjoy these results for years.

Q: WHAT IS THE COST OF A HALO LASER TREATMENT?
A: The cost of Halo laser treatments vary in terms of cost depending on the extent of the area treated, how many treatments are necessary and whether other treatments are combined with it. We discuss the cost with you during your consultation, along with our payment and financing options. We accept cash, checks, and credit cards along with offering financing through CareCredit®.